RINGO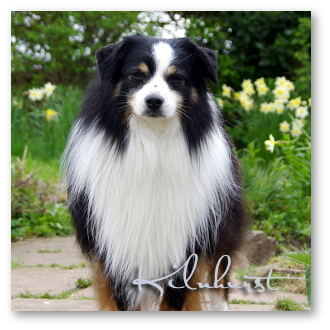 Ringo joined the Kilnhurst Clan in 2013. He is small, heavy-coated, affectionate and totally lovable character with a gentle, reserved personality. He's bright and biddable and his temperament is true 'aussie', he warms up to strangers slowly, but once you're a friend, you're a friend for ever. Ringo loves children and especially those who are likely to drop food on he floor. He is a traditional 'velcro dog' whose favourite spot in life is right next to you and preferably snuggled in your lap; he gives the greatest cuddles. When Ringo gets excited about something he does a happy-dance of twirling in circles.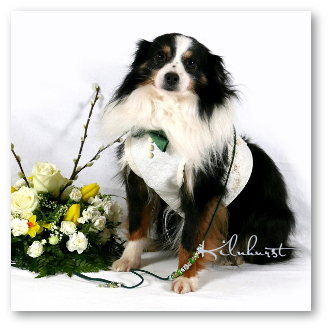 Ringo lives with our older daughter and her family. In 2015 he was the ring-bearer at her wedding, stealing the show by walking up the church aisle to deliver the rings during the ceremony, wearing his specially made 'ring-bearing' waistcoat.

Ringo was an established stud in the US and sired four further litters in the UK but was retired from service when previously unforeseen health issues arose with some of his pups.

Ringo Stats
| | |
| --- | --- |
| Date of birth | 08.06.2007 |
| Penn Hip (HD) | Good (80th percentile) |
| BVA eye test | cleared annually (most recent 20.05.2016, 9yrs) |
| DNA Clear (normal) for | CEA/CH, PRA, CMR1, HSF4, MDR1, IGS, DM |
| Tail | long, docked |
| Height | 15.25" 38cm |
Withdrawn From Stud