Kilnhurst Miniature American Shepherds and Border Collies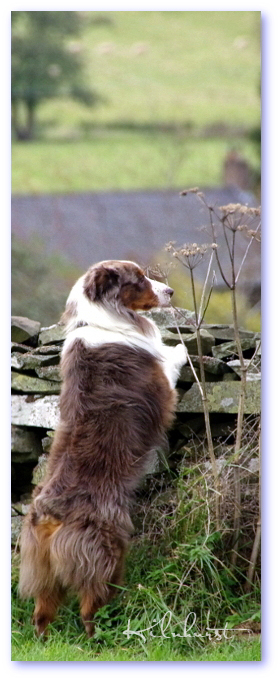 QUALITY WITHOUT COMPROMISE
Welcome
- to the internet home of the 'Kilnhurst Clan'; a multi-generation family of Border Collies, Miniature American Shepherd Dogs, loved by Keith and Heather Noddle, their family and grandchildren.

The Kennel Name of Kilnhurst has been registered with the Kennel Club since 1999. For three decades our dogs have been raw-fed, holistically raised and minimally vaccinated; they are loved and cherished family members. We live in the beautiful Scottish Borders, where the dogs have plenty of fresh air and acres of freedom in which to run and play - when they're not snoozing on the sofas in front of the stove. Most of our dogs have been worked successfully in Agility or are currently active in Scentwork and Mantrailing.

Our occasional litters of pups are bred with health, temperament, versatility and conformation as benchmarks. Our meticulous attention to detail in their raising and socialisation, plus our unconditional commitment to them not only for the first few weeks but throughout their lives, is without parallel. With this level of devotion we do not breed more frequently than allows this journey to be unique and magical for each litter, their new owners and us.
Miniature American Shepherds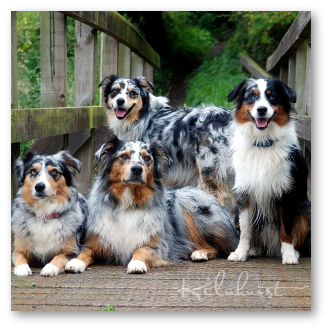 A compact version of the USA's classic stockdog the Australian Shepherd, and originally known as the Mini Aussie, the breed achieved full AKC pedigree status as the Miniature American Shepherd (MAS) in July 2015. We are proud to have been the second UK breeder of these amazing little dogs, importing our first in 2008.

We now have our fourth generation of MAS at home, having augmented our breeding with carefully selected dogs imported from two of the USA's longest established kennels, who have since become our friends and valued mentors.
Border Collies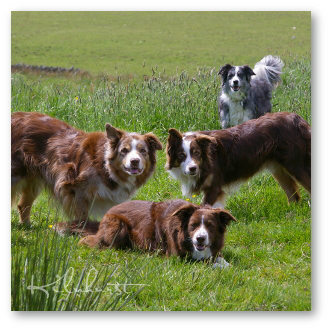 The Border Collie is the UK's traditional working pastoral dog and our close involvement with this formidable line of collies spanned over thirty years and six generations. Our collies have been a mixed family of Working Sheepdogs (WSDs - non KC registered) and Border Collies (BCs - KC registered,) all with impeccable pedigrees, ancestry, temperament and working ability.

Our final litter of collies was bred in 2019 and these stunning young dogs are without doubt the pinnacle of our collie breeding endeavours in terms of style, power and brains. The mum to this litter is our last remaining collie, Suri.


Chihuahuas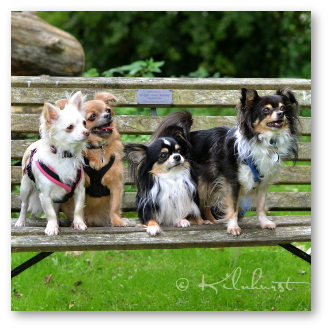 The world's smallest dog breed, named for the Mexican state of Chihuahua, this breed is thought to derive from the Techichi dogs kept by the ancient Mayan, Toltec and Aztec civilisations for religious purposes. Possibly regarded as sacred; writings, drawings and figurines of Chihuahua-like dogs were found in ancient tombs and pyramids.

Despite their small size they're all dog, fully capable of competing in modern dog sports, and are expert watchdogs. Our first Chihuahua arrived in 2014 and since then several more seem to have slipped in under the radar.