Reference Dogs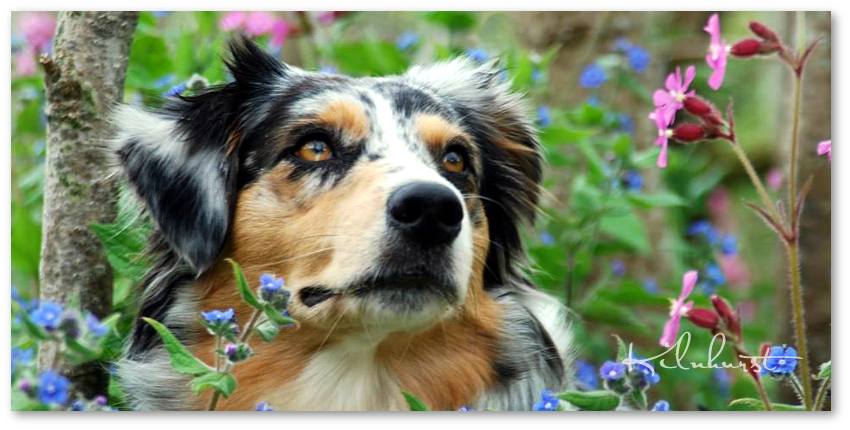 Kilnhurst Connections
Over the years we have been fortunate enough to be allowed to use some amazing stud dogs on our girls and to be able to have a couple of litters from our home-grown dogs too. Here we acknowledge these dogs as part of the wider family since they have contributed fundamentally to our breeding and to the dogs we have here now.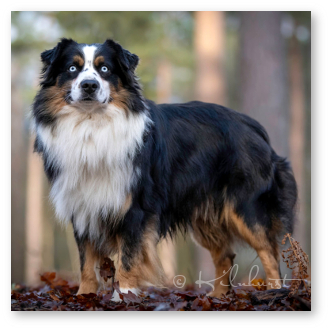 Miniature American Shepherd
After an extensive search for the perfect stud for our home grown girls, we were privileged to be allowed to partner the simply stunning OCEAN, with Bea (Kilnhurst Queen Bea, below) in 2021 and Henna (Kilnhurst Crossfire) in 2022.
Ocean is an American import from Diamond H kennels in Texas. He has a lovely traditional pedigree full of some super dogs and in himself combines great structure and striking looks with that all-important, superb temperament. The pups are proving to be everything we had hoped for and our youngster Costa is our keeper puppy from Henna's litter.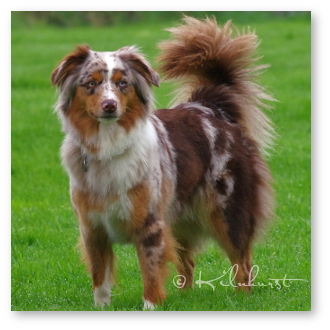 Miniature American Shepherd
BEA is a gorgeous, eye-catching daughter of Ozzy (below) and our girl Minx, from their second (2018) litter. Right from a tiny puppy Bea was an energetic, clever and exuberant character and she has grown into a stunning, powerful and formidable worker with a mile-high bounce (beware flying kisses.)
Bea competes in agility at Medium height and is working her way up the KC Good Citizens awards. She lives locally with her uncle Kasper (below) and her cousin Amaruq from our Ringo x Micah litter. In 2021 Bea had a litter of six with the dashing Ocean (above) from which she kept a daughter, Honey.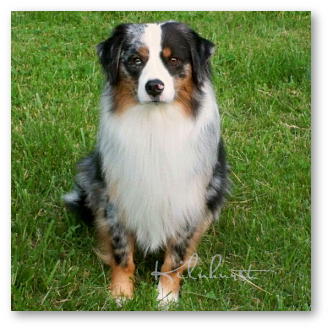 Miniature American Shepherd
OZZY was love at first sight when I saw the photos of him as a newborn on Dynasty Minis website. Even though he was never destined to be mine (other than in my dreams) I followed his progress over the years and was beyond delighted when we were eventually allowed to use him at stud to our home grown girl, Minx (Kilnhurst Fireflash.)
Ozzy is an easy-going, kick-back, affable and handsome dog who loves nothing more than a beer, a BBQ and watching his favourite football team in action. He has sired three litters with Minx for us, born in 2017, 2018 and 2019 respectively. Our girl Henna is a pup from the last litter.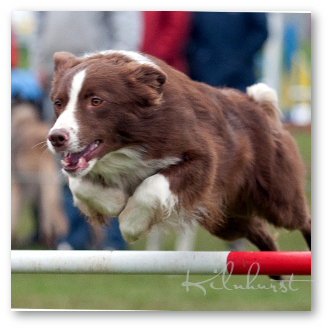 Working Sheepdog
HITCH was the firstborn of Storm and Una's two litters. He has matured into a well-balanced, affectionate and wise dog with great presence and a powerful, athletic style.
The talented 'officer and gentleman' Hitch was a perfect complement to our stunning girl Suri (Kilwhiss Shooting Star Over Kilnhurst.) The litter was born in March 2019 and the synergy of this combination has been tremendous. All six generations of the litters' pedigree are packed full of dogs we have known, loved and worked. It was a very exciting cross indeed and they are maturing beautifully.
Hitch lived with his late dad Storm (see below) and currently his brother Mash and his sons from this litter, Hoozy and Jura.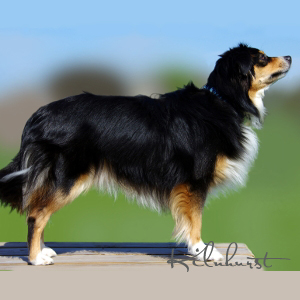 Miniature American Shepherd
KASPER is from Roadie and Jolly's third litter and he has sired two litters with our girl Xi-Cephei (Dynasty's Starlight Of Kilnhurst) in 2016 and 2017. Kasper and Xi were a perfect match; they made a lovely couple and some super pups.
Kasper is a bright, bubbly and vivacious boy with a small, correct frame and handsome markings. He has competed successfully in agility and scentwork, earned his Herding Instinct Certificate, achieved his KCGC Bronze and Silver in a single sitting and his Gold at a subsequent one.
There is a lot to love about Kasper and we enjoy his visits home when his human works abroad but we do wish he hadn't taught our lot it's OK to jump all the stairgates ...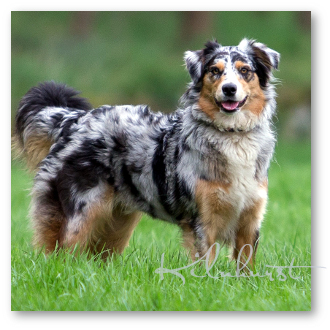 Miniature American Shepherd
MICAH was the last born of Roadie and Jolly's second litter; 'The Gang of Ten'. She is her owner's heart-dog, intuitively tuned in to the Universe and those in need of reassurance and comfort. She is a registered Therapet who specialises in working with children and young adults with severe emotional and learning issues. She has a sweet, balanced and affectionate nature, kind and unflappable. Whilst off-duty she has earned her Herding Instinct Certificate and also competes successfully in agility.
Micah had one litter of seven with our boy Ringo (Double R Ringo Of Kilnhurst) in 2015.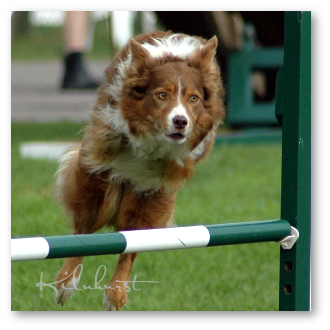 Border Collie
STORM descended from a long line of Obedience Champions. He became the UK's second ever Agility Champion and in 2006 took individual gold at the IFCS World Championships. Throughout his career he was virtually resident at all the major UK finals, notably Crufts and Olympia. All this combined in a charming, affable and kindly dog. Perfect.
I had spent years searching for a top quality stud to compliment our girls. I had literally scoured the agility circuit, watched dozens of dogs working in the ring and researched a huge number of pedigrees. Skye (Rufus Rajni Of Kilnhurst AW-S) was delighted with my choice of husband for her and in 2008 the pair produced a lovely litter of eight.
I was subsequently privileged to be able to partner Storm with Skye's older daughter by Dexter; Una (Kilnhurst Rufus Relay AW-G). This pairing brought us two further litters of pups in 2009 and 2010, combining everything I love about these traditional, intuitive, driven and compelling working lines.
Storm's contribution to the Kilnhurst Clan was 22 pups, 27 grand-pups and 5 great-grand-pups. They are an unique legacy; sharing his strong personality, his intelligence and of course his wicked sense of humour.