In Memory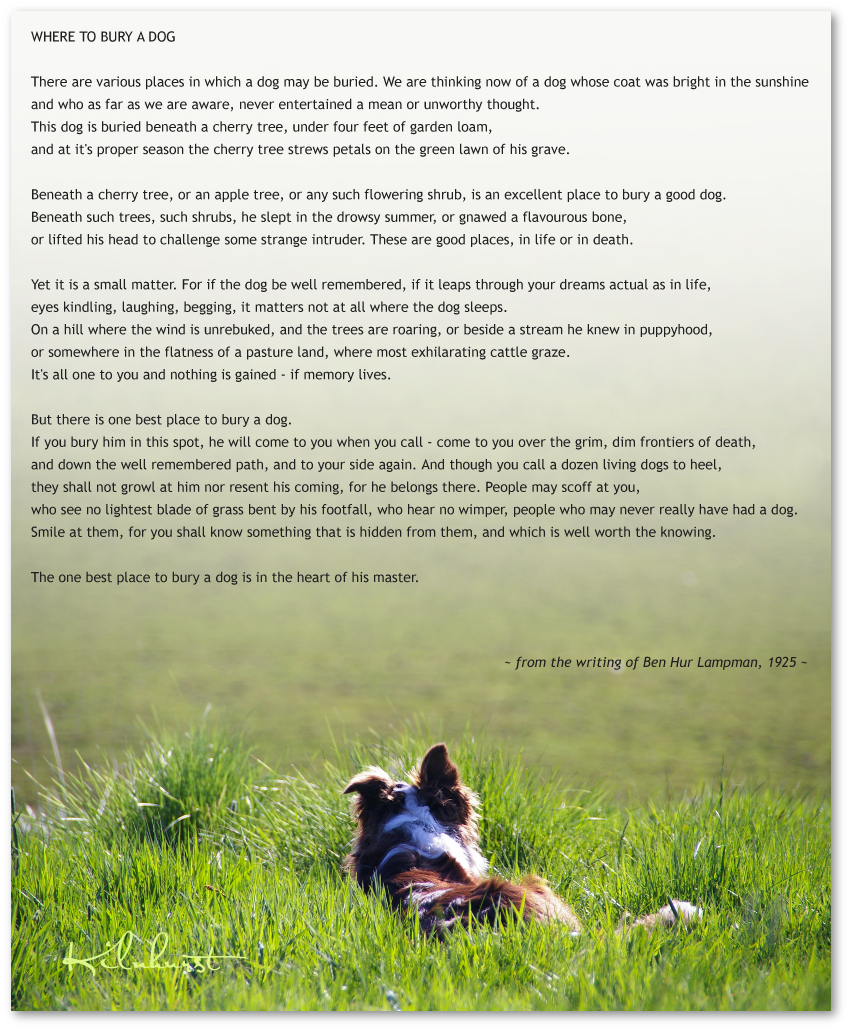 Over Rainbow Bridge
This is a very difficult page to write. Please forgive any typos or errors you may find, it is hard to see them through the tears. The loss of each of these dogs has torn a raw, gaping hole in our lives and our hearts.
We miss each one of them deeply.

We hope they have found each other on the far side of Rainbow Bridge, and are waiting for us there until we can be together again. Run free, our friends.




Tuxedo ~ 06.03.2012 - 23.10.2023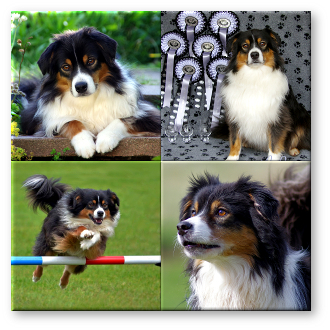 Tux was mine from his very first photo. Our cheeky chappy, a noisy, effervescent, social butterfly and wind-up merchant with a delightfully wicked sense of humour, Tux had a personality that filled a room. He was a fabulous breed ambassador who never met a stranger, a lover of company and any spotlight he could perform in. He achieved G6 and AWS in Medium KC agility before retirement.
Following the loss of his life-long friend Xi, Tux had a tough year dealing with overwhelming allergies, a heart condition and finally a stroke, but his indomitable spirit kept him fighting to the last. His passing at just 11.5yrs left us heartbroken. Rest easy my wonderful, handsome, best boy. I'll miss you always, there will only ever be one 'Tucky-D'.


Ringo ~ 08.06.2007 - 22.05.2023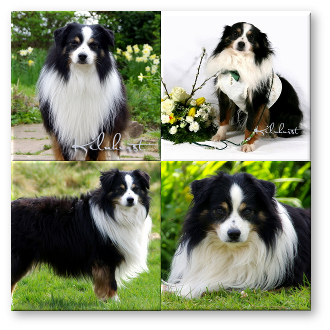 Ringo imported from the USA in 2013. He was a small, totally lovable character with a gentle, reserved personality. His character was all 'Aussie'; accepting strangers slowly, but never forgetting a friend. He was a true velcro dog whose favourite spot in life was right next to his people and preferably snuggled on a lap. Ringo lived with our older daughter and her family. In 2015 he was the ring-bearer at her wedding, wearing his specially made ring waistcoat.
An established stud in the US, he sired four further AKC litters in the UK. He passed peacefully of old age, just two weeks before his 16th birthday. We will miss your quiet, loving ways and your twirly happy dances, sweet boy. Sleep well.


Xi-Cephei ~ 08.04.2012 - 12.11.2022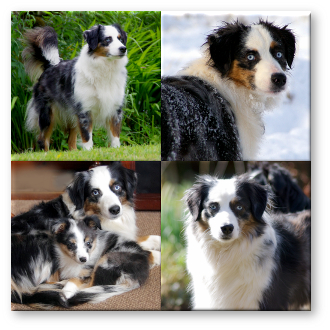 Beautiful Xi was the first ever export by the prestigious Dynasty kennel in the USA, arriving in Sept 2012. Xi was a fun, loyal and affectionate girl, self-appointed guardian of the house, monitor of postmen and delivery vans. She was happiest being with us, making sure that whatever we did, we did it right. Outdoors Xi was an efficient huntress of wildlife. For this petite little lady size did not matter, Xi was a true quart in a pint pot; limits and boundaries, mental or physical, simply did not apply to her. Xi had three litters, the first with our boy Ringo in 2014, the second and third (2016, 2017) with our home-grown boy Kasper. Tragically Xi passed peacefully in her sleep aged just 10.5yrs, from a heart condition. Rest easy over the Bridge, our sweet Princess.


Skye ~ 13.05.2004 - 08.01.2022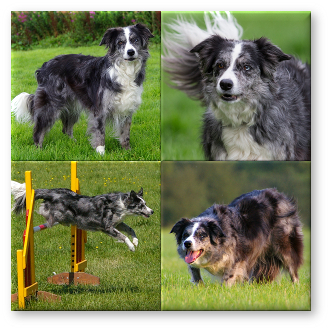 'Great-Granny Skye' our collie matriarch; born in a notorious puppy mill, sold by a broker and then given away at 15 weeks due to 'nervous aggression' (what nonsense!) Despite an imperfect start Skye's sheer strength of character shone through; she was a sassy, sparky, clever little imp with a glint in her eye, a heart of gold and an immense, infectious zest for life. She was a joy to train, quickly attaining KC G6 and her AWS despite time out for two litters, before a slipped disc halted her career aged six. Her legacy of exuberant noise and magnificently plumaged tails still resounds around the agility rings. Sleep tight sweet girl, 17.5 years went far too quickly. Our world is an emptier place without you.


Jolly ~ 28.01.2007 - 03.10.2021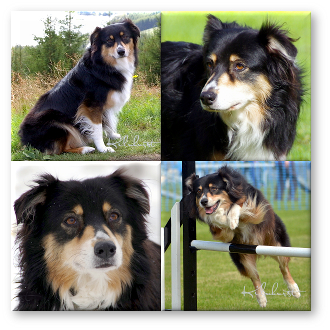 Jolly was our foundation MAS girl from Bonza Aussies, named after the beautiful La Jolla beach near her birthplace in San Diego, CA. Jolly became the bedrock of our pack, nurturing and cleaning anyone, human or canine, within range. She was a pure mother earth, everybody's go-to comforter; wise, cuddly, embraced by and embracing of, every soul she met.
Jolly's global legacy is 22 pups, 58 grand-pups and 26 great-grand-pups across the UK, EU, Scandinavia, USA and NZ. Her trademark superb temperament, sense of humour and appreciation of mud wallows lives on in her extensive dynasty. Jolly was just 14.5yrs when she passed suddenly from a previously undetected brain tumour. She will always be our queen of hearts.


Kenzy ~ 19.11.2010 - 27.06.2020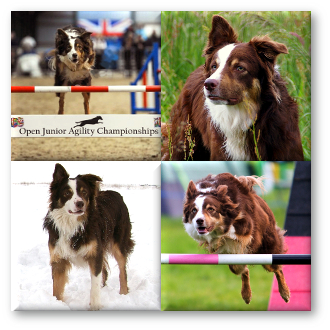 Kenzy (Kenny to his friends) was the last-born of Una and Storm's two litters and he was our keeper in that instant. Kenny suffered from IGS (VitB12 malabsorption) which almost claimed his life before his first birthday, and which caused the death of his litter brother Croft. With the support of their Kilnhurst family these dogs were pivotal in the development of the DNA test for IGS in Border Collies.
IGS left Kenny with learning difficulties, tunnel vision and a lifetime of medication, nonetheless he was a happy, loving boy who enjoyed a successful agility career including representing Scotland at the OJAC with his junior handler.
After a life overshadowed by IGS, Kenny was dealt one last cruel blow by thyroid cancer and passed aged just 9.5yrs. Sleep well and run free at last our handsome lad and thank you from the bottom of our hearts for all you gave the world in this all-too-short tour of duty.


Una ~ 28.03.2006 - 08.01.2020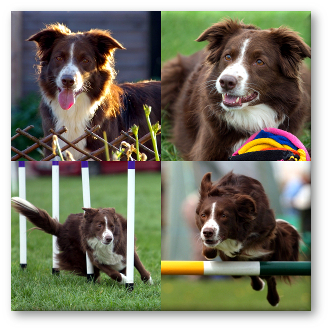 Una was the home-bred, singleton daughter of our Dexter and Skye, embodying the energy, strength, power and noise of an entire litter. She lived life at full throttle, full volume and maximum enthusiasm. She was the apple of my eye, the very beat of my heart.
Following in her parent's pawprints Una revelled and excelled in agility; working at G7 (Champ) gaining her AWG and competing in every national Pairs final available. With her adored 'husband' Storm she was mum to 14 and grandma to 13. Una fought a liver tumour for 18 months until just shy of her 14th birthday. I held her as she was born and I held her as she slipped away. Run free, run fast, run clean over endless agility courses at the Bridge, my precious girl.


Roadie ~ 24.05.2004 - 15.07.2019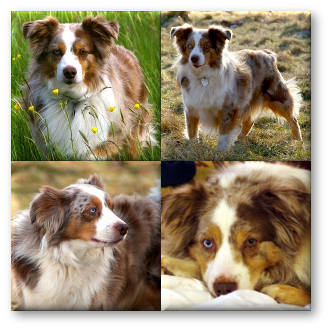 Born in Florida, raised in Oklahoma and living in Texas, Roadie joined us in 2010, becoming the first MAS stud dog to be imported to the UK. Roadie was our constant companion and always keen to 'help' us in whatever we did. There were few more genuine or kinder dogs in the world than Roadie, he was an absolute pleasure to live with and we loved him to bits. 'Roads' sired three litters with our girl Jolly. They made the perfect couple and were wonderful parents, stamping their loving, clever and easy-going natures on their pups. Their pups and grand-pups are in the UK, USA, France, Holland, Finland, Germany and NZ. Roadie's passing was a terrible shock, hours after suffering liver failure aged 15yrs.


Jaffa ~ 05.03.2002 - 16.07.2018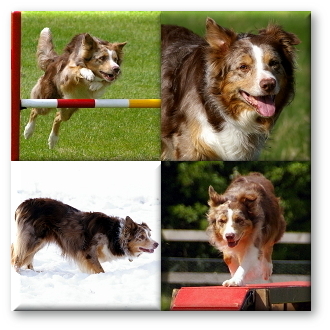 Born on the hillsides of Snowdon, Jaffa was one of the first Canens to enter the agility circuit. Jaffa and I chose each other when he was just two days old. He grew into a big, friendly, talented and hugely powerful dog, albeit a very noisy worker, earning him the nickname of 'The Five-Fault Foghorn'.
Jaff worked at KC G6 and qualified for the Team Dash Final twice and the Laser Pairs Final, before a shoulder injury from a rabbit hole sparked the arthritis that eventually capped his career. In 2009 he sired a litter of five ISDS pups with 'Star' (Canen Slap Happy.)
Jaff slipped peacefully over the Bridge aged 16.5yrs. He was a wonderful, loyal and loving dog and his great physical and mental presence is deeply missed.


Dexter ~ 31.01.1996 - 15.05.2012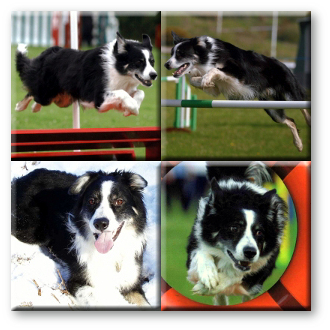 Dexter was my heart and soul, my companion and my working partner from the moment I first held him at ten days old. I could never imagine a day without him by my side and even now his loss is an endless heartache. Dexter was the first puppy we ever bought. A Working Sheepdog with an impeccable English pedigree, Deckie was a clever, loyal and devoted boy. He reached Championship level in agility; en route he qualified for most of the national finals including every pairs final, the Team Dash final several times and three trips to Crufts.
Deckie was father to our Una, grandad to 14 and great-grandad to 13. He finally succumbed to a tumour on the spleen, aged 16.5 years.


Sidney ~ 00.02.1996 - 22.11.2011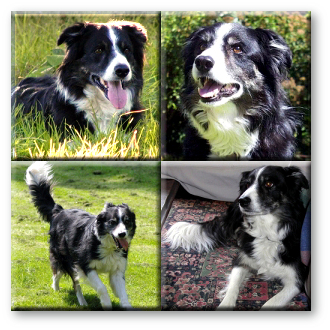 Sidney came from an abusive obedience background and arrived aged 16 months with a load of emotional luggage which took him years to unpack. He was re-homed to us by Valgrays Border Collie Rescue.
Sid was primarily Keith's dog and they enjoyed each other's company greatly. Over time Sid relaxed into a fine, upstanding gentleman, defender of house and home. Although he was extremely bright and trained up quickly, his weak wrists prevented an agility career.
We lost Sidney shortly before his 16th birthday, following a shock diagnosis of extensive bone cancer.


Tiggy ~ 07.07.1997 - 19.04.2011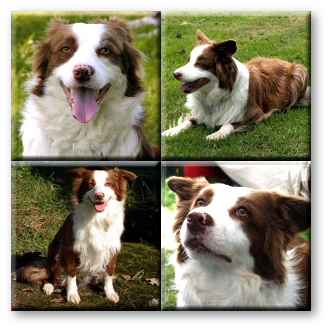 Tiggy was rehomed to us aged 10 months by Valgrays Border Collie Rescue. Tigs was adorable, friendly, beautifully mannered and very affectionate. However, she found pack life stressful and herded the other dogs obsessively. For six years we worked with this, but when the opportunity arose for Tigs to lead an idyllic life with my God-daughter as an only dog in a much-adoring household, she moved out, a couple of miles away, on indefinite loan. Her life transformed; she was genuinely happy at last being shared and loved by two families and was in every respect a perfect pet.
Just before her 14th birthday, Piglet developed severe Thrombocytopenia and sadly passed away less than two short weeks into the illness.


Yoda ~ 00.01.1992 - 02.11.2009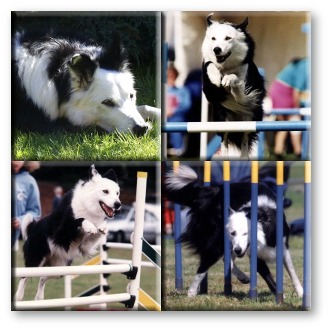 Yoda came to us as a 13 month-old re-home from the Dog's Trust. He was a tall, handsome, athletic collie with a fun personality and a wicked sense of humour. His agility career spanned over a decade and encompassed several finals. Unfortunately, big finals meant big crowds and Yo loved nothing better than playing to an audience with a glint in his eye.
Yoda reluctantly assumed leadership of the pack when Kressler died. He matured into a politically astute leader and for 12 years his reign was peaceful, fair and absolute. He was a kind, devoted, generous character and a fabulous elder statesman. Yoda slipped peacefully over the Bridge a few weeks short of his 18th birthday.


Bosworth ~ 30.07.1983 - 04.11.1999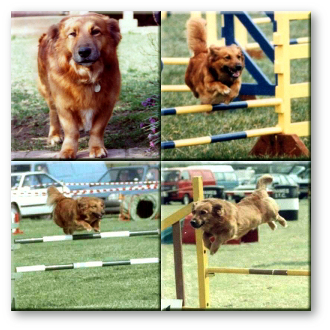 Boz was the son of Flossie. He was helped into the world by Keith, which forged a lifetime bond. I started agility in 1989, when Boz was seven. Although technically a mini (Small), he much preferred working at midi (Medium) height. According to Boz, he was a big dog who just happened to have short legs.
He was an expert human-watcher, talking to us in grunts and whistles. He was popular too; always the star guest at friends' and family gatherings. Sadly in old age he suffered from what we now understand was Degenerative Myelopathy, presumably inherited from his corgi sire. Keith held Boz as he entered this world and 16 years later he held him as he left.


Kressler ~ 00.07.1989 - 05.06.1997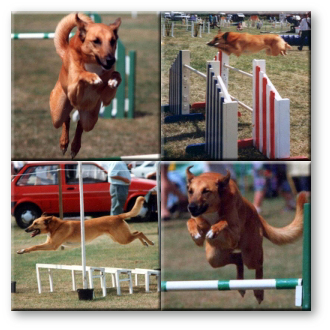 Kressler was rehomed to us at 10 months from a local rescue kennels. Leggy, springy, car sick, disobedient and wilful, I adored him anyway. Kress matured into a tremendous character. Agility was effortless but he was steady and consistent and would not be rushed. He qualified with our older daughter for the DINAS JU-12 Final, and with me for the Vitapet Golden Oldies Final.
My beloved Kress died in my arms just before his eighth birthday, from bowel cancer. My soulmate was stolen from me in his prime. Kressie's loss devastated me and changed our lives and thinking for ever. It is his legacy that our dogs are now raw fed and holistically treated wherever possible.


Flossie ~ 00.08.1982 - 07.01.1997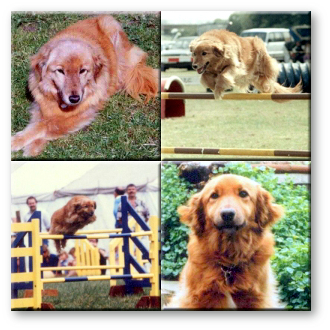 Flossie was re-homed to us at ten months from the RSPCA, skinny, full of fleas, worms and ... puppies. Floss was a sweet, gentle soul who worried so much about life that sometimes she shook until her teeth chattered. Floss started agility aged eight. Although by measuring just 17.5" she had to jump full height (then 30") she astonished everybody by loving the job and even gained a few places in Elementary. Her greatest achievement however was winning a tin of dog biscuits in a 'Waggiest Tail' class at a Fun Show. It was a walkover; you only had to whisper 'Wibbly wobbly floopy doog' and she would wriggle and squirm in delight.
Floss suffered from kidney failure in old age. Our brave little girl was given the gift of sleep, aged 15.

In affectionate memory of our old and missed family friends