COSTA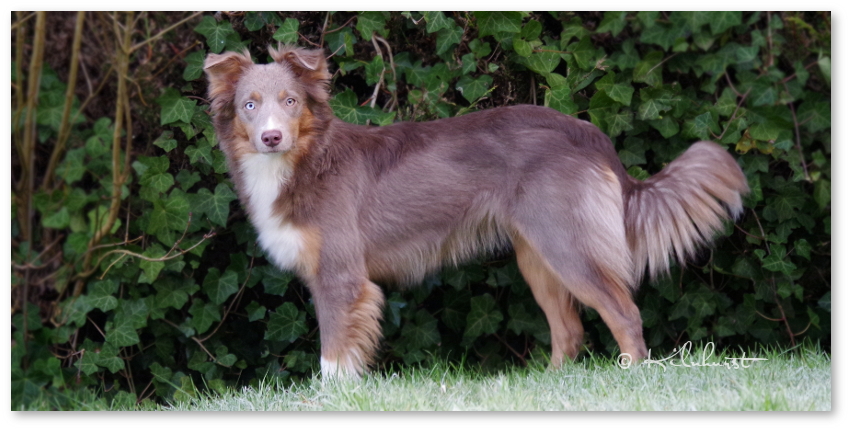 Costa is our keeper puppy from our Ocean and Henna litter. As the daughter of Henna and granddaughter of Minx, Costa is the fourth generation of MAS that we have had the pleasure of living with, although sadly her great-grandma Jolly and great-grandfather Roadie both passed away before they had a chance to meet this litter, they would have adored them.
I am pleased to have been able to incorporate Ocean's lovely traditional pedigree into our own, to produce what should be a super set of well-balanced, biddable, capable and versatile working dogs.




Costa is a bright, quizzy, happy little busy body who thoroughly enjoys all her training. She's a very affectionate and cuddly soul, fitting right in with the rest of the gang.
She has already passed her KCGCDS Bronze and IMDT Level 1 and is working towards her Silver. As well as being effortlessly athletic, she has completed an introductory session in Mantrailing, which she loved. We look forward to seeing what this young lady can achieve.


Costa Stats
| | |
| --- | --- |
| Date of birth | 13.04.2022 |
| BVA Hips (HD) | 4:5 |
| BVA Elbows (OCD) | 0:0 |
| Patellas (Putnam 1968) | 0:0 |
| LTV | LTV 0 |
| BVA eye test | cleared annually (most recent 01.10.2022, 5.5mo) |
| DNA tested clear for | CEA/CH, PRCD-PRA, CMR1, HSF4, CD, HUU, NCL6, MDR1, DM, CMO, CDPA, CDDY, IVDD |
| Tail | long, NBT Clear |
| Height | too young |
| Sire | Diamond H Ocean Eyes |
| Dam | Kilnhurst Crossfire KCGCDS-G |